THEATRE MAKING
TRAINED AT ECOLE PHILIPPE GAULER AND CENTRAL SCHOOL OF SPEECH AND DRAMA, ELEANOR HAS 15 YEARS OF PERFORMING EXPERIENCE, MAKING THEATRE AS PART OF ENSEMBLE, COLLABORATIVE AND SITE-RESPONSIVE COMPANIES.
EDEN'S CAVE THEATRE COMPANY

Co-founDer & company member
Eleanor is foundational member of and performer for Eden's Cave, a laboratory theatre community dedicated to the artistic investigation of the human spirit and our connection with the natural world.
A cross-disciplinary training-based company, we draw from the skills and disciplines of a diverse range of artists to enrich and empower the creative process. Our theatrical events arise from the process of a devoted research and excavation.
In collaboration with The Asha Centre and Theatre Fest West, Eden's Cave will premiere the first iteration of their new project, Forests, in February 2019.
To find out more: www.edenscave.org
The Animals & Children Took to the Streets
With theatre company 1927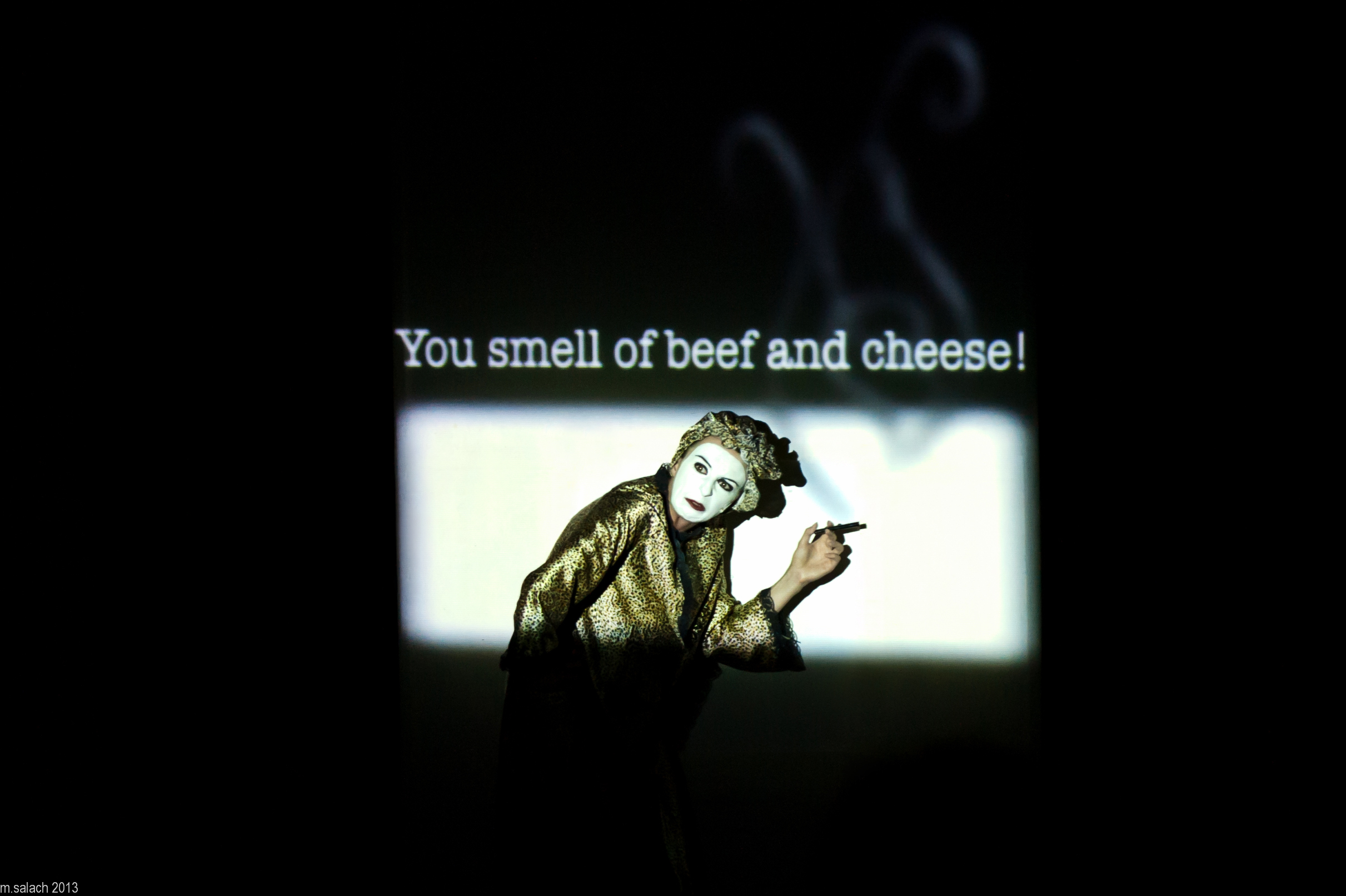 Eleanor undertook a world tour of 1927's critically acclaimed production, performing in twenty-one countries to over thirteen thousand people in eleven months.
Countries visited include China, Jordan, Israel, the USA, Russia, Armenia, Azerbaijan, Georgia, Ukraine, New Zealand and across Europe.
As well as performing the show over 9000 people, the tour included cultural outreach programmes and educational workshop activities on social inequality, cultural exchange and theatre-making.
It was an absolute blast.
To find out more: www.19-27.co.uk
Mad About The Boy
Co-written & performed By eleanor buchan
in collaboration with playwright Lucy Kirkwood
A 'zombie burlesque' devised in conjunction with playwright Lucy Kirkwood looking at distress, eroticism and audience desire. Highlights included pulling out fingernails, vomiting treacle and ripping a nipple off before fixing it back on with a staple gun.
Commissioned by Terror for Soho Theatre.
La fille a la mode
Co-devised & PerformED by eleanor Buchan
with dante or die
Eleanor co-devised in performed in the multiple iterations of La Fille à la Mode, a musical journey through surprising locations in and out of buildings such as the National Theatre, a department store in Holland, the V&A Museum, the Theatre Royal Haymarket. A company of eight female dancers, actresses and musicians dressed in sumptuous costumes bring an audience on a playful and seductive exploration of the continued celebration and exploitation of glamorous It Girls throughout the ages.
The production premiered at the National Theatre as part of Watch This Space Festival.
TO FIND OUT MORE: www.danteordie.com
"Over the top: The true-life tale of dorothy lawrence"
Co-Devised & performed by eleanor buchan
IN COLLABORATION WITH THE HEROINE PROJECT PRESENTS
Salisbury 1917: aspiring young journalist Dorothy Lawrence returns to spend the summer with her wealthy guardian. She is suffering from a nervous complaint and is harbouring secrets that she is not allowed to tell.
"I'll see what an ordinary English girl, without credentials or money can accomplish. I'll see what I can manage as a war correspondent!"
With two performers, dark humour and an original score, this show explores the explosive personality at the heart of this extraordinary story. Based on detailed original research and a year-long process of audience development, this show brought a hidden piece of Wiltshire history back to life in its centenary year.
The Heroine Project Presents gives voice to women from history who have been overlooked or misrepresented. In the First World War centenary year, this piece about an extremely brave but forgotten heroin toured the south-west of England sharing her story, leading workshops and curating a specially commissioned touring exhibition.
To find out more: www.theheroineprojectpresents.com
CURRICULUM VITAE
TRAINING
Central School of Speech & Drama - MA in Classical Acting, Postgraduate Diploma

Ecole Philippe Gaulier, Paris - 1st Year Diploma [Clowning, Bouffon, Melodrama, Mask, Character etc.]

University of Edinburgh – MA Hons English Lit, 1stClass Honours [Minor – Religious Studies]
PERFORMANCE SKILLS
Period Dance (Bronze - Distinction), Ballet (Basic), Contemporary Dancing (Basic), Stage Fighting (BADC Level 1) Contact Improvisation, Alexander Technique, Singing (Grade 5), Choir leading, Kirtan Chanting (Intermediate).

Finalist: 'Naxos Voice of the Year 2004'

Storytelling, Puppetry, Clowning, Improvisation

Clean driving license, own car and experience driving large vehicles / Fully DBS/CRB checked

Languages: English (Native), French (Basic) / Accents: London (Native),RP, Heightened RP, French, Eastern European
KEY DETAILS
Nationality: British / Height -5'6'' / Build - Slim / Hair - Brown / Eyes - Hazel
FURTHER TRAINING
Kath Burlinson's Authentic Artist workshops
Paul Oertel's Discipline of Freedom workshops
Play, Rhythm and Ensemblewith Mick Barnfather for Complicite
Actor to Director Training with Kristine Landon-Smith for Tamasha Arts
Ritual and Immersive Technologies with Zecora Ura
The Speaking Body with Tempered Body Dance Company